Bathroom Renovations Melbourne
CMD Bathroom Renovations creating beautiful bathroom renovations and makeovers throughout Melbourne
Bathroom Renovations
CMD Bathroom Renovations have been creating and providing beautiful Melbourne bathroom renovations for over 15 years!
Our experience, attention to detail and professional team is what sets us apart from other bathroom renovators.
We combine your ideas with our experience to help design, create and deliver beautiful, functional bathroom renovations.
We look forward to creating a stunning bathroom renovation for you.
Our Bathroom Renovation Process
Bathroom Renovation Step 1
Simply contact CMD Bathroom Renovations for a FREE Quote and expert advice on 9727 3418.
Bathroom Renovation Step 2
We will arrange a suitable time with you to come out to your home and discuss your bathroom renovation requirements. We listen to your ideas, wants and needs and will provide expert advice on all aspects including your desired design, fixtures and fittings.
Bathroom Renovation Step 3
We will measure up and list all your requirements and then forward you a comprehensive no-obligation complete bathroom renovation quotation.
Bathroom Renovation Step 4
Once you are happy with our quotation we will arrange a mutually convenient start date to commence your bathroom renovation.
Bathroom Renovation Step 5
We complete all the works within the specified time-frame, clean and remove all rubbish so your newly renovated bathroom is ready to use right away!
Bathroom Renovations Frequently Asked Questions
Are your bathroom renovations covered by a guarantee?
Yes! All our work is guaranteed for 7 years. We also issue you with a Certificate of Compliance at the completion of work.
What do I need to do to before you arrive to prepare for my bathroom renovation?
Not much! We suggest you clean out and empty all cupboards. If there are any personal items or decorations in your bathroom these should be removed before our tradespeople arrive, to ensure we can promptly start work.
What tradespeople attend our home for the bathroom renovation?
CMD Bathroom Renovations use only fully qualified licensed and insured tradespeople to attend to your needs. Depending on your bathroom renovation there may be different skilled tradespeople who expertly carry out different jobs, electricians, tilers, plasterers, cabinetmakers, etc. We ensure each one of these arrives with a smile on their face, is polite and courteous, respects your home and not only does an expert job but cleans up too!
Can you assist us in selecting suitable bathroom fixtures and fittings?
Yes, when you deal with CMD Bathroom Renovations, not only do you receive expert advice and information regarding your renovation, we give you access to an extensive portfolio of products, fixtures and fittings. This includes energy efficiency and environmentally friendly products to assist households to save money on power bills and reduce carbon emissions, all conveniently accessible from local suppliers. What's more with CMD Bathroom Renovations you only pay the trade price not the full retail price, which means you can make significant savings on your complete bathroom renovation!
Will there be much disruption in our home during my bathroom renovation?
It's inevitable there will be some! Most importantly we communicate with you well ahead of time and keep you informed along the way to help minimise any disruptions to your household.
How long do bathroom renovations generally take?
How long does a bathroom renovation take can depend on a number of factors. We will discuss these when we first meet. At the time of quoting, we can confirm the actual time required from start to finish and we always endeavor to meet any special requests or needs.
Can you remodel a bathroom for the handicapped or the elderly?
Yes, we have extensive experience in renovating existing bathrooms to make life easier for the physically challenged, handicapped or elderly. We offer a range of tailor made solutions for increased safety, comfort and independence. Ask us about the cost of renovating or remodelling a bathroom to suit your special needs.
What about the clean up and rubbish?
At the commencement of work, and dependent upon the bathroom renovation, we generally arrange a skip bin for all large rubbish, old fixtures and fittings etc. Once we have completed your renovation we clean up and remove all rubbish so your newly renovated bathroom is ready for use right away! The skip bin is removed once all work is completed.
Are you concerned about having no bathroom during the renovation?
CMD Bathroom Renovations have the solution – we can bring a bathroom to you!
Our Happy Customers and Rave Renovation Reviews
"We wanted to say an extremely big thank you for the outstanding job that you and your team have done on our bathroom makeover and renovation. We are just amazed by the result. We also wanted to say what an amazing professional service that you offer. It has been completed in a manner way beyond our expectations. We could not be happier."
Nigel & Linda Watson
Ringwood North
"Cameron was incredibly helpful, offering design solutions that improved the natural lighting and addressed my storage concerns. He worked within my budget to deliver a dream bathroom! CMD Bathroom Renovations finished the job on time and there were no surprises on price."
Catherine
Box Hill
"First rate project management from start to finish – every step of the way. The quality of work from each of the tradesman involved was faultless, with the end result being a stunningly finished bathroom. Cameron and his team are very professional and made the whole renovation process quite painless. We couldn't recommend them highly enough"
Jason & Lana Radley
Kilsyth
"CMD Bathrooms did a fantastic job renovating our two bathrooms. The quality of the work was very impressive as was the professionalism of Cameron and his team. Thanks – I'll certainly be recommending CMD Bathrooms to our friends and family."
Tim
Surrey Hills
"Five-star service and quality of work! Tiling is spectacular – markings between the Italian tiles carefully carried on tile to tile. Prompt attendance for quotes and work. Very easy to deal with and the price was very fair."
Ross Hodgens
Doncaster
"CMD Bathrooms did a fantastic job on our bathroom, toilet & ensuite 10/10 *****! Cam, Ben, Sean and the rest of the team were great, on time, provided excellent advice and also kept us up to date with what was happening next. We could not have asked for anymore."
Paul and Jenny
St Helena
"We recently had our bathroom renovated by CMD Bathrooms and could not be more happy with the result. Their team gutted the old bathroom and installed the new one within the time specified in the quote. The tradesmen were all polite, professional and punctual and the quality of their work was outstanding. We would highly recommend CMD Bathrooms to anyone considering a bathroom renovation. "
Brian and Janet
Chirnside Park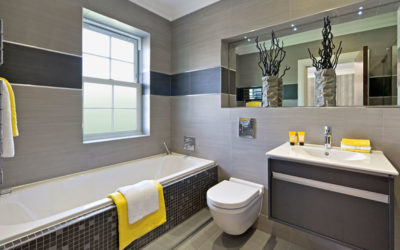 Prompt Professional Precise A bathroom renovation can be one of your best investments, but it can also be one...
read more
Email CMD Bathroom Renovations